Ask Yourself...


Do I feel anxious and stressed dining out with food allergies?
Am I worried and exhausted by even the thought of going out to a restaurant?
Do I feel unsure of how to prepare my child with the best tools and strategies to dine out as safely as possible with their food allergies?


As Someone Who Grew Up with Severe Food Allergies...


I used to have those feelings. But, not anymore.
I learned how to dine out as safely and successfully as possible, and so can you.
There are ways to feel safer and more in control when dining out.


I am here to guide you through the process.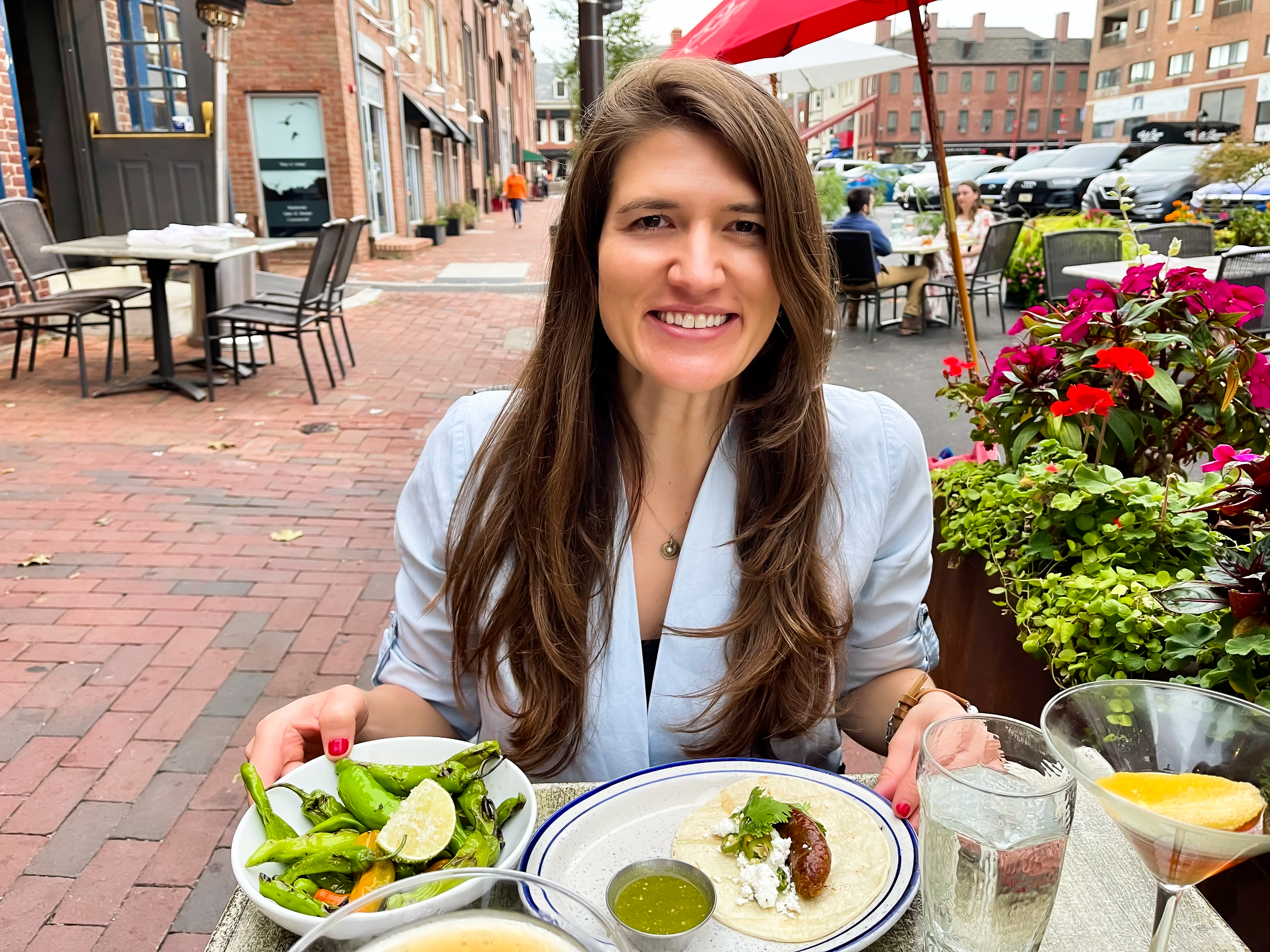 Your Educator: Allie Bahn
I've been writing, blogging, and educating in the food allergy community over the past decade. You may also be familiar with my site, MissAllergicReactor.com, an educational lifestyle and travel website for families and individuals with food allergies since 2008. I grew up with multiple anaphylactic food allergies to four of the top eight allergens (including peanuts, tree nuts, fish, and shellfish, along with less common food allergens) since I was a baby, so the only dining experiences I have ever had have been with food allergies.
Over three decades, I have learned the most effective strategies to have the best dining out experiences possible and now I am delighted to share them with you!
With my Master's degree in Education and over a decade of teaching experience, I am excited to bring you this empowering course that will help those with food allergies dine out as safely as possible!
By the end of this course, you will feel confident and capable with the most effective strategies and tools to use when navigating dining out with food allergies.


What's Included In this Course:


- A complete guide on how to dine out with food allergies in four modules that take you from preparation to utilization


- Numerous videos demonstrating the steps and my best practices for dining out


- Infographics with my top tips to save and use as references


- Worksheets to guide you in the planning and preparation process for dining out


- My chef card template and explicit directions on how to make your own chef card



Course Testimonials
Mother of child with food allergies
"Thank you for offering this course. I have a 6 year old daughter with multiple food allergies and dining out is a very scary concept. However, I don't want to raise her to be afraid; rather, I want to teach her to explore and to be adventurous, while also taking her food allergies seriously. Your course accomplishes just that. I'm more confident about dining out with her, and I'm better equipped to start teaching her how to speak up and manage her allergies as she gets older. There's never going to be a risk-free dining experience, but you provide practical tools to mitigate that risk. I'm looking forward to sharing what I've learned with my daughter."
- Sarah
Course Testimonials
Child Psychiatrist
"I took Allie Bahn's course, How to Dine Out With Food Allergies, for both personal and professional reasons. As one who had an anaphylactic allergic reaction for the first time in recent years, I wanted to learn how Allie navigates the world without letting fear limit her experiences or hold her back. As a Child Psychiatrist, I have treated many children over the years who have crippling anxiety due to potentially life threatening food allergies, and whose parents have inadvertently stoked that fear in an effort to keep them safe. I thought her course might give me ideas on how to help these children live fuller lives with less anxiety. Allie's course far exceeded my expectations. On a practical level, she provides a clear and easy to follow road map for how to dine out with food allergies and this alone will be hugely helpful to those learning how to expand their horizons in the dining world. More important to me, though, was that she shows us through her own experiences how people with life threatening allergies can explore and experience the world safely and confidently. Allie inspires us to develop our own "growth mindset" by listening to our gut, minimizing risks where we can, and take charge so we can fearlessly live our lives. I look forward to more courses by Allie Bahn on other topics relating to food allergies and I will continue to recommend this course to my friends, to my colleagues, and to my patients."
- Rebecca
Course Curriculum Preview:


Frequently Asked Questions
Who is this course for?
This is a course that is designed for anyone that needs to build confidence dining out with food allergies. You will learn the most effective tools and strategies to feel safer dining out. Whether you are new to the food allergy journey or have been on it for years, if you are looking to feel more confident and capable dining out, then this course will help you do that effectively!
What can I expect from this course and how is it organized?
This is a self-paced online course. You can choose when you start it and when you finish it. There are four modules that take you from the preparation of dining out to utilization of the tools and strategies you have learned throughout the course. Each module has an introduction video about the module and then there are many other videos throughout the course. I have also created worksheets for each module and infographics for the key points and helpful checklists.
What if I am not satisfied with this course?
I created this course with great knowledge of this subject area, three decades of dining out experience, as well as having my Master's in Education and over a decade of curriculum writing and teaching experience. Therefore, I am confident with the value in this course and no refund is available after purchase.
Can you offer any guaranteed results from this course?
There is no way to guarantee results from this course since we are all on our own food allergy journey. What I can tell you is that this course has all of my tried and tested best practices and strategies from over three decades of food allergy life experience and over a decade of consulting with food allergy families to help them dine out as safely as possible with food allergies. I can't guarantee that you will dine out safely by taking this course. However, I can teach you ways to mitigate the risks in order to dine out as safely as possible!
Please note: I am not a medical professional, doctor, allergist or other healthcare provider and this course is not intended as medical advice. You should always make sure to discuss any medical questions or concerns with your physicians regarding your specific food allergies. This course does not replace medical treatment for food allergies. This course is intended as a lifestyle course offering recommendations on how to dine out as safely as possible with food allergies.
My strategies, tools, and techniques are from my own personal experience with over three decades of dining out, as well as my consulting experience with food allergy families since 2008.
There will never be a 100% guarantee that anyone can safely dine out. Therefore, I do not assume any responsibility for any experiences related to dining out whether or not they are based on any strategies, tools, or techniques you may have followed from my course. This course is intended only to share my experience on mitigating the risks of dining out with food allergies. There is always a risk when dining out with food allergies.